Bicycle touring in Špindlerův Mlýn
Despite the Krkonoše Mountains landscape is protected as a national park and some places are banned for bikers, you will find hundreds of kilometers of beautiful routes for mountain, trekking, and road bikes.
Bike trip from Špindlerův Mlýn towards Svatý Petr, Pláň, Kopřivník, Strážné, Mlýnské Domky, Kamenný Mlýn, Dolní Dvůr, with a finish in Lánov, is 22 kilometers long and it belongs among shorter ones. It is interesting primarily due to its total elevation gain reaching a total of 700 meters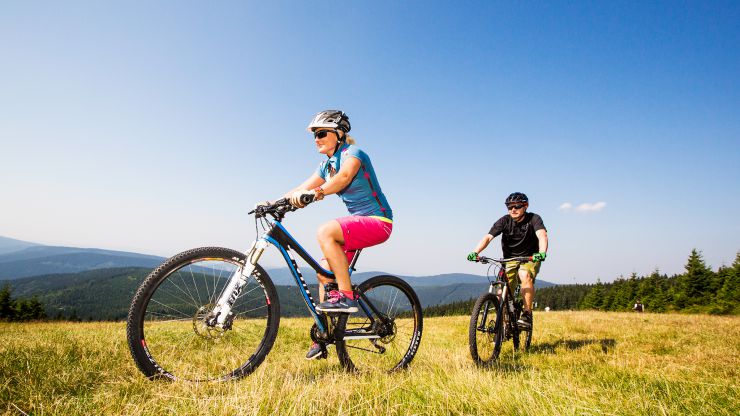 Another tip for a bit longer bike trip starts in Špindlerův Mlýn and ends in Jilemnice with the total elevation gain of 750 meters. The route starts in Špindlerův Mlýn, continues through Medvědín, Horní Mísečky, Třídomí, Na Rovince, Benecko, Horní Štěpanice, Dolní Štěpanice, Hrabačov, and ends in Jilemnice after a long descent.
A somewhat different tip for a trip is a bike specialty – mountain bike downhill track in Špindlerův Mlýn. For just 300 CZK a day, you will enjoy a lot of adrenaline when going down this almost 3 kilometers long downhill track. Technically demanding track leads along the blue ski slope. Its start is located at the top station of Svatý Petr – Pláň ropeway.
You may save your time when going out for bicycle touring trips in Špindlerův Mlýn by using the ropeways, which will take you up to the start of selected bike route including your bicycle. This service is free for the entire summer tourist season.

If you do not have your own bicycle when visiting Špindlerův Mlýn, you may get one in one of the local rental shop.
Yellow point
Svatopetrská
543 51 Špindlerův Mlýn
Tel.: +420 731 160 152
E-mail: office@ypoint.cz
Web: www.yellow-point.cz